YOSHIKAWA KANPÔ (吉川観方)

Undated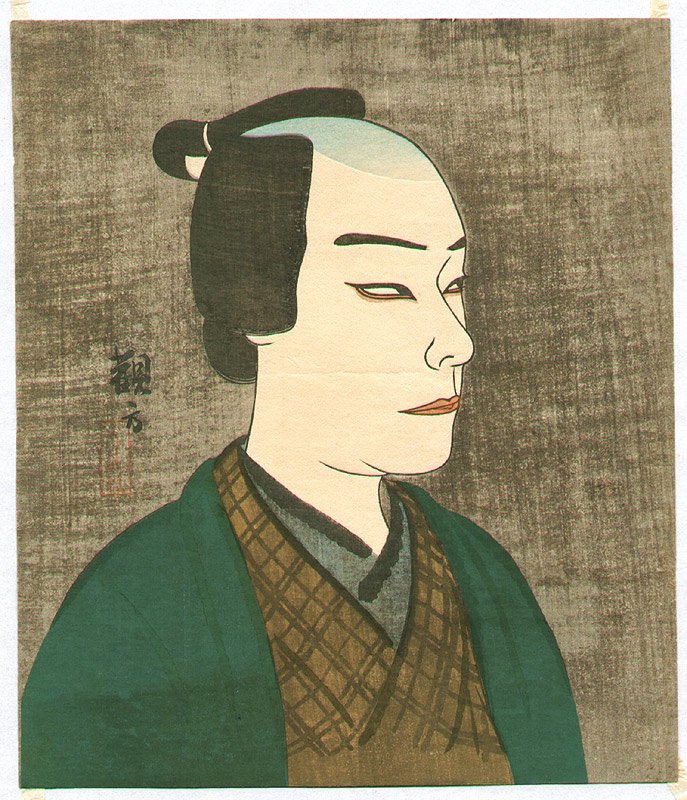 ? as ?

Play: ?
Performance Place: Kyoto?
Performance Date: ?
Print Date: ?
Personal Collection

Note: The artist Paul Binnie, from whom I acquired this print,
believes that this was intended as a fan print, which would explain
why no other surviving copies have been located so far. He is also
of the opinion that the actor depicted is Nakamura Ganjirô II
(中村鴈治郎), and that it is likely that this print was
commissioned by a member of Ganjirô II's fan club.








? as ?

Play: ?
Performance Place: I?
Performance Date: ?
Print Date: ?
Image courtesy of Artelino.com

Note: One source has stated that this print
is by Matusda Seifû and depicts Kataoka
Nizaemon XI (片岡仁左衛門) as
Furuteya Hachirobei (古手屋八郎兵衛) in
the play Sakuratsuba Urami no Samezaya
(櫻鍔根鮫鞘; 桜鍔恨鮫鞘). This, how-
ever is erroneous, and was evidently based
on the fact that the print had been
accompanied by a backing sheet with such
information. That backing sheet can from
Volume 5 of Yakusha-e (Shin Nigao), and
the actual print in that volume is different.
(See the 1915 Seifû prints elsewhere on
this website.)