UTAGAWA aatUNISADA III (歌川国貞)

aka Baid˘ H˘sai (梅堂豊斎); Baid˘ Kunimasa IV (梅堂国政); K˘ch˘r˘ H˘sai (香朝楼豊斎)

1907


APRIL 1907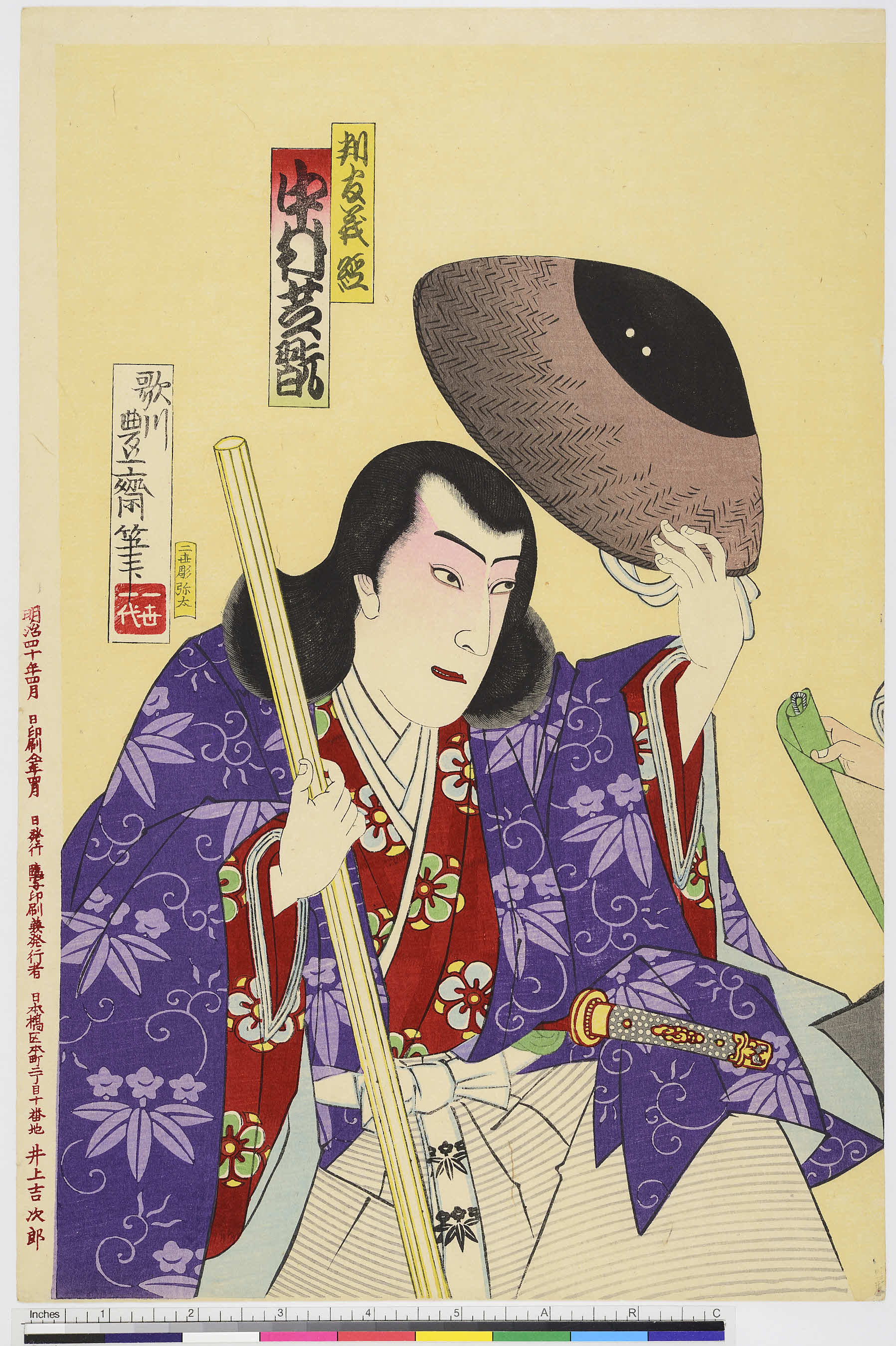 Nakamura Shikan V (中村芝翫) as
Hangan Yoshitsune (判官義経)






Play: Kanjinch˘ (勧進帳)
Performance Place: Kabuki-za, Tokyo
Performance Date: 04/10/07
Print Date: 04/1907
Image courtesy of the Ritsumeikan ARC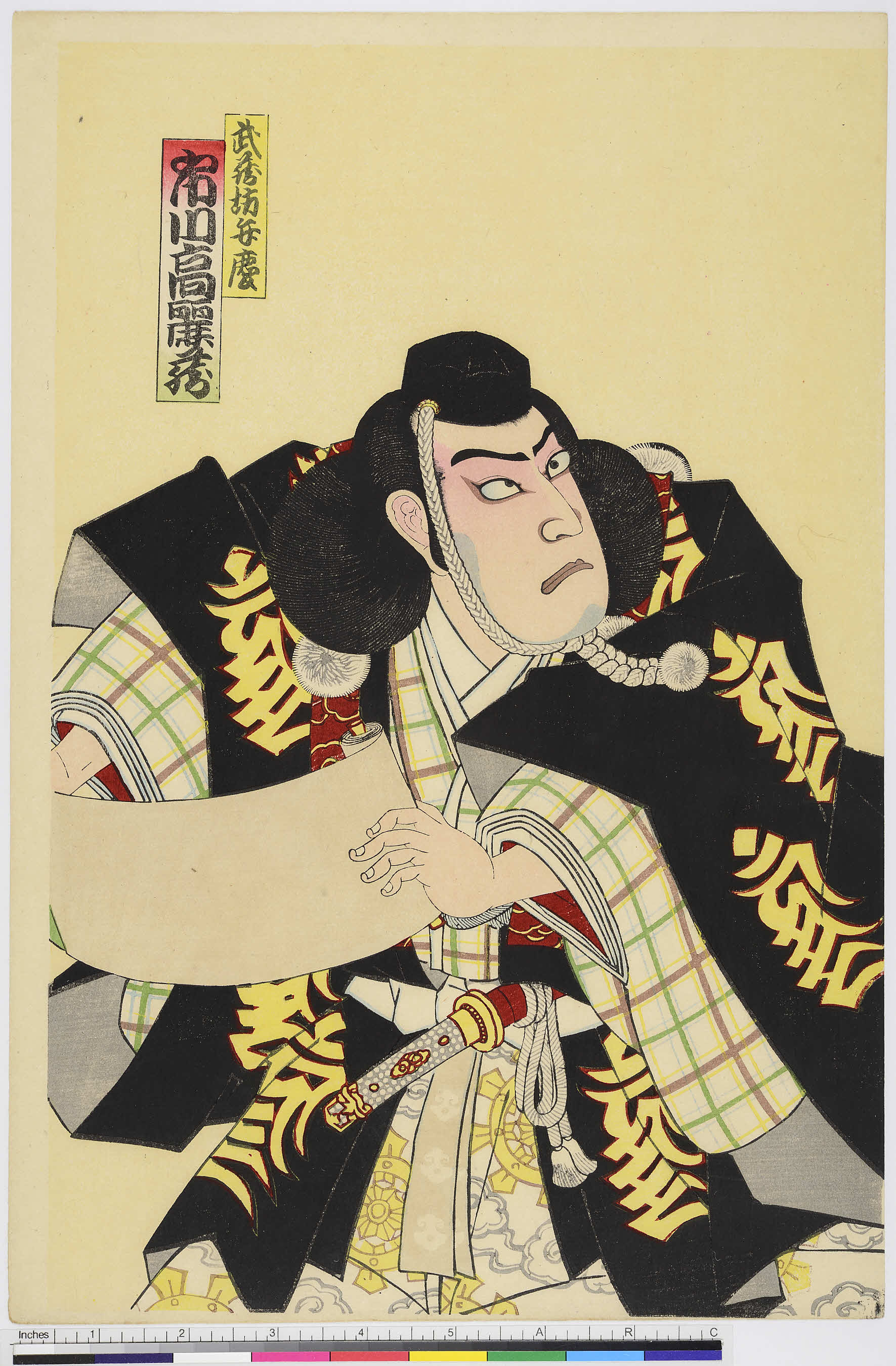 Ichikawa Komaz˘ VIII
(市川高麗蔵) as
Musashib˘ Benkei (武蔵坊弁慶)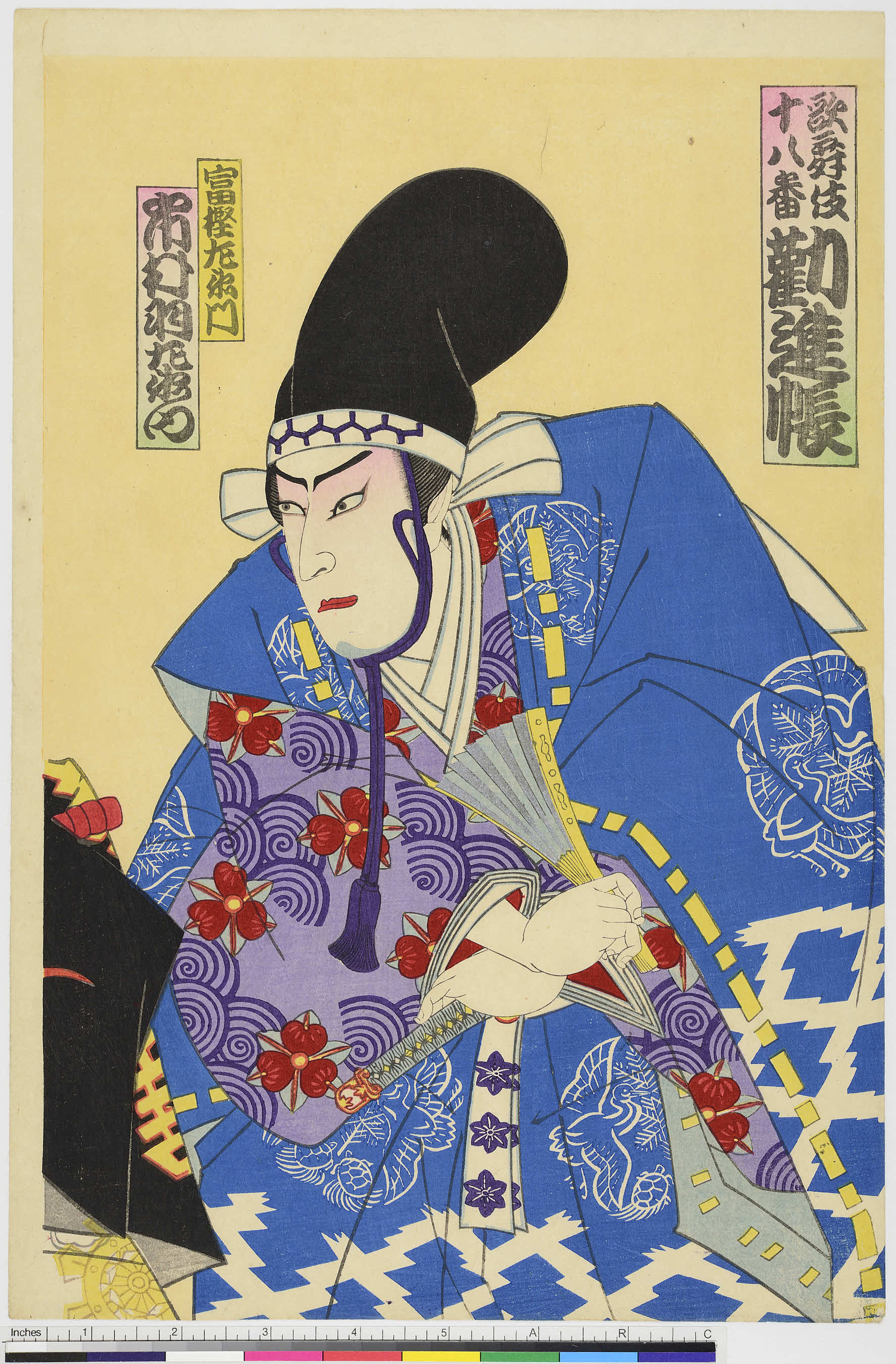 Ichimura Uzaemon XV
(市村羽左衛門) as
Togashi Saemon (富樫左衛門)



Ichimura Uzaemon XV (市村羽左衛門) as Aburaya Osome (油屋お染)

Sawamura Tossh˘ III (沢村訥升; 澤村訥升; 澤村訥舛) as Hisamatsu (久松)

Ichikawa Yaoz˘ VII (市川八百蔵) as Hyakush˘ Kyűsaku (百姓久作)

Onoe Baik˘ VI (尾上梅幸) as Musume Omitsu (娘おみつ)

Play: Nozaki-mura (野崎村), Volume 1, Scene 2 of
Shinpan Utazaimon (新版歌祭文)
Performance Place: Kabuki-za, Tokyo
Performance Date: 04/1907
Print Date: 04/1907
Image courtesy of the National Theatre of Japan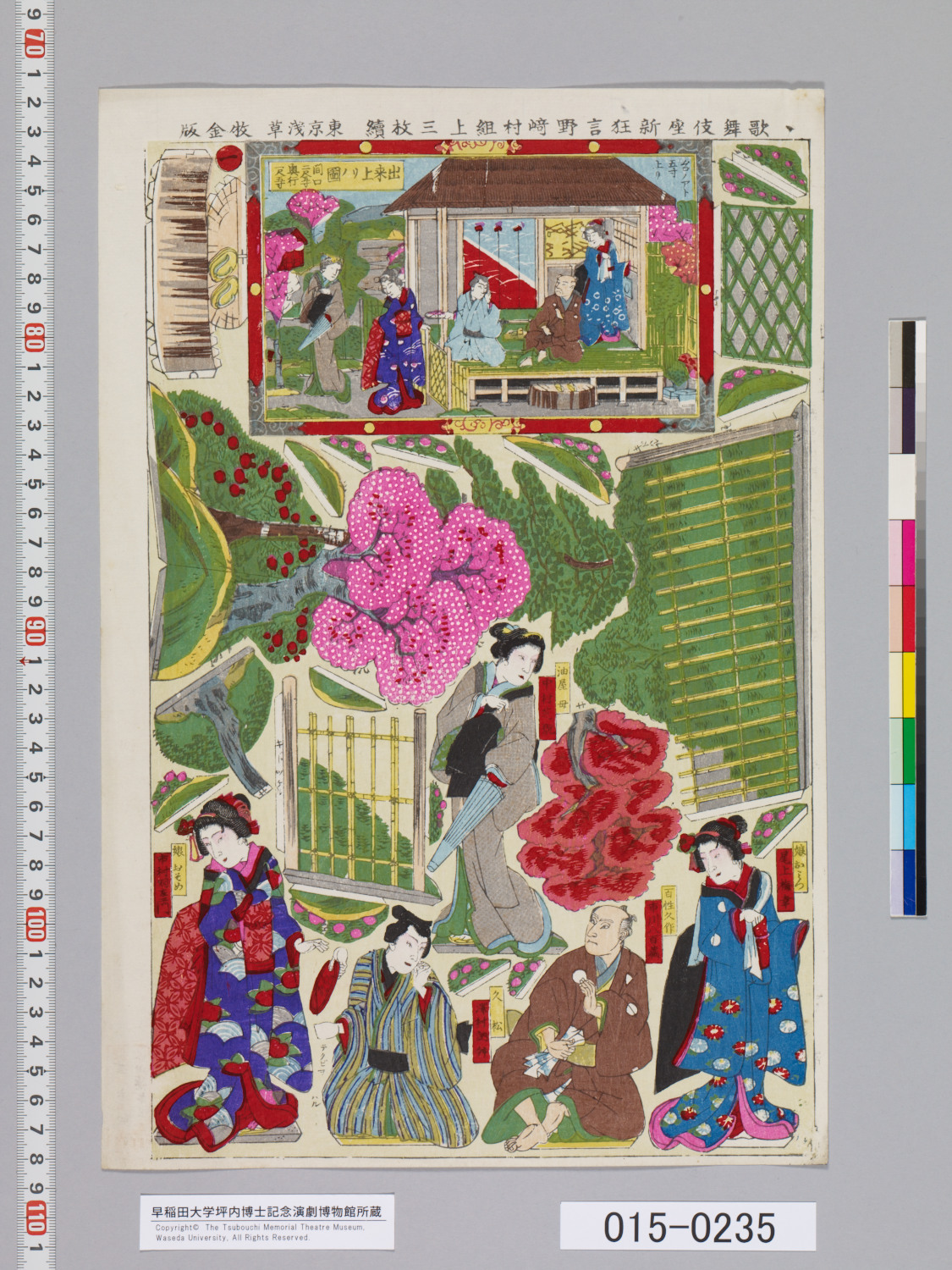 Nakamura Shikan V (中村芝翫)
as Aburaya Haha [Otsune]
(油屋母[お常])

Ichimura Uzaemon XV
(市村羽左衛門) as
Musume Osome (娘おそめ)

Sawamura Tossh˘ III
(沢村訥升; 澤村訥升; 澤村訥舛) as
Hisamatsu (久松)

Ichikawa Yaoz˘ VII (市川八百蔵) as
Hyakush˘ Kyűsaku (百姓久作)

Onoe Baik˘ VI (尾上梅幸) as
Musume Omitsu (娘おみつ)

Play: Nozaki-mura (野崎村),
Volume 1, Scene 2 of
Shinpan Utasaimon (新版歌祭文)
Performance Place: Kabuki-za, Tokyo
Performance Date: 04/1907
Print Date: 06/20/07
Image courtesy of the Tsubouchi
Memorial Theatre Museum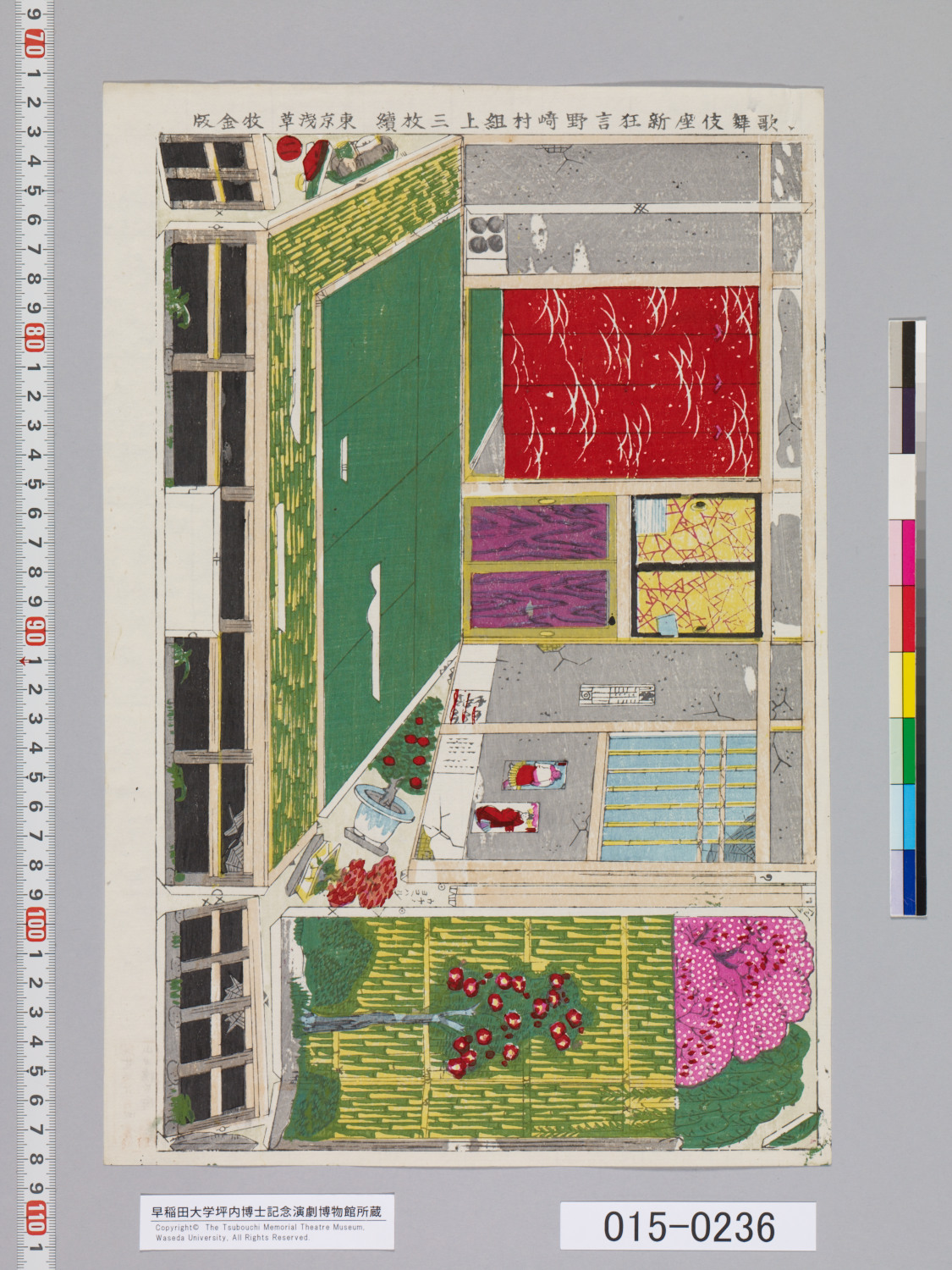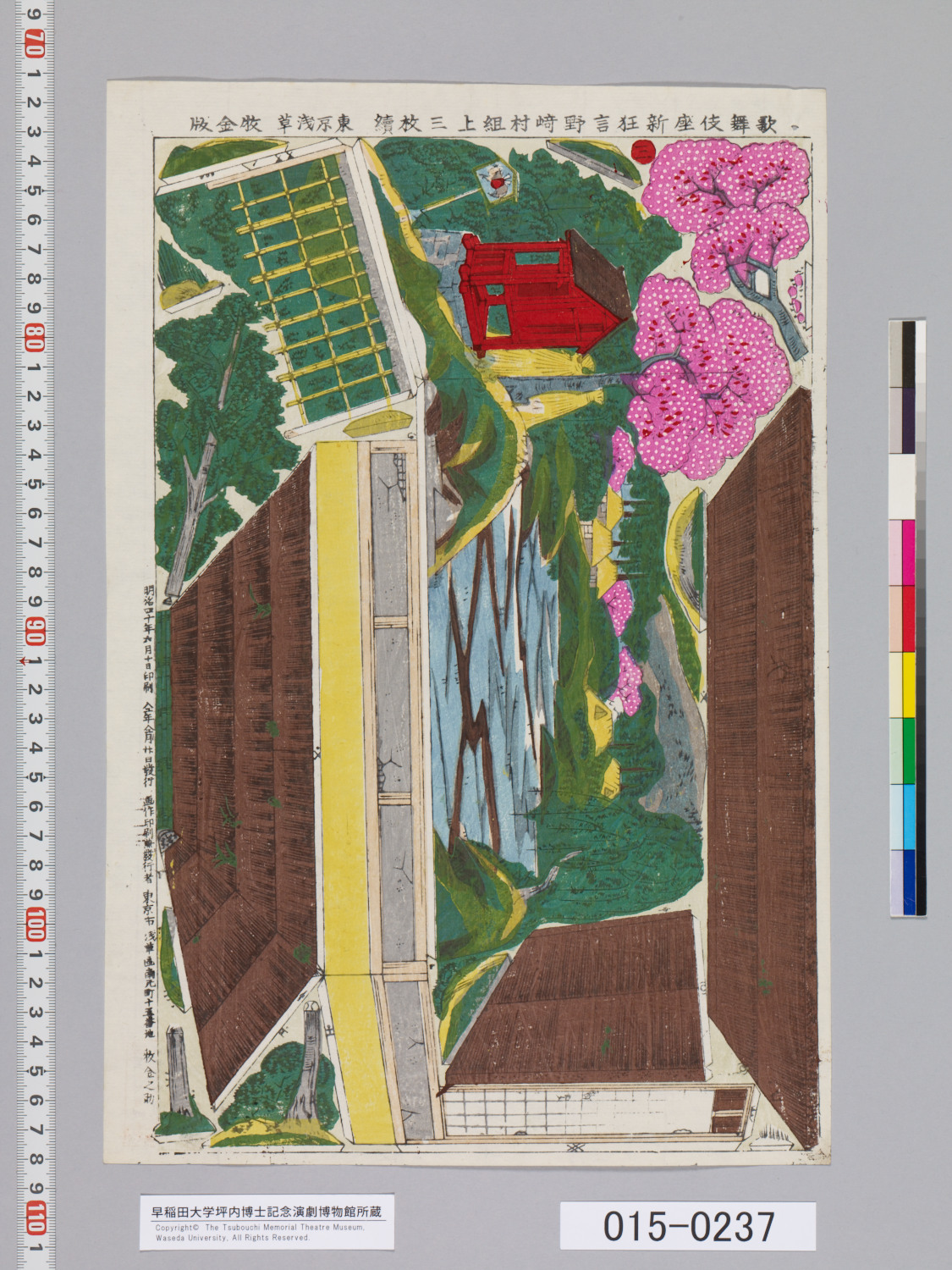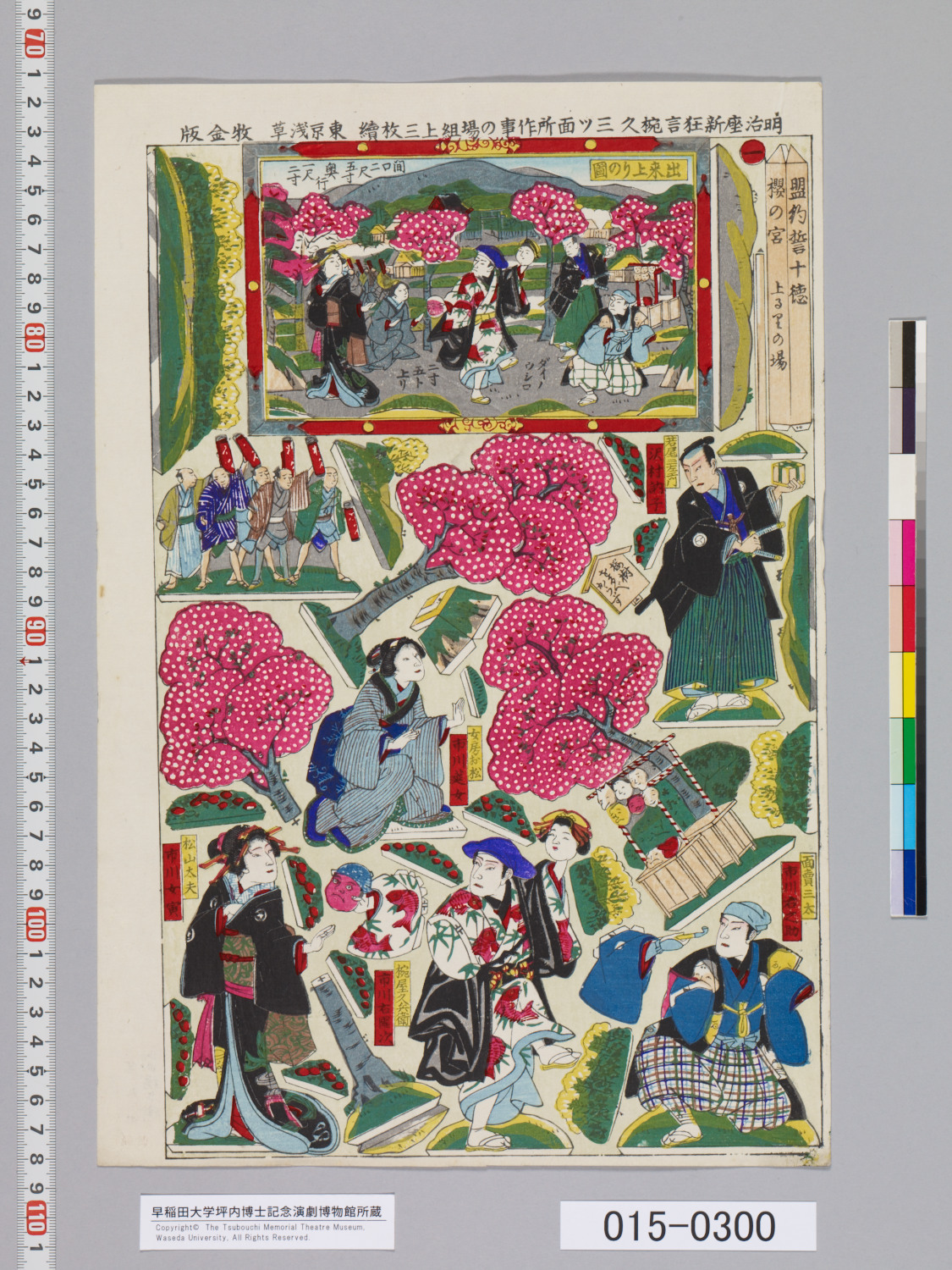 Sawamura Tosshi III
(沢村訥子; 澤村訥子) as
Wakaya Sanzaemon
(若屋三左衛門)

Ichikawa Enjo I (市川莚女) as
Ny˘b˘ Omastu (女房お松)

Ichikawa Metora II (市川女寅) as
Matsuyama Tayű (松山太夫)

Ichikawa Udanji I
(市川右団次; 市川右團次) as
Wan'ya Kyűbŕ (椀屋久兵衛)

Ichikawa Unosuke I (市川右之助) as
Menu Mitsubuto (面賣三太)

Play: Wankyű (椀久)
Performance Place: Meijii-za, Tokyo
Performance Date: 04/23/07
Print Date: 06/20/07
Image courtesy of the Tsubouchi
Memorial Theatre Museum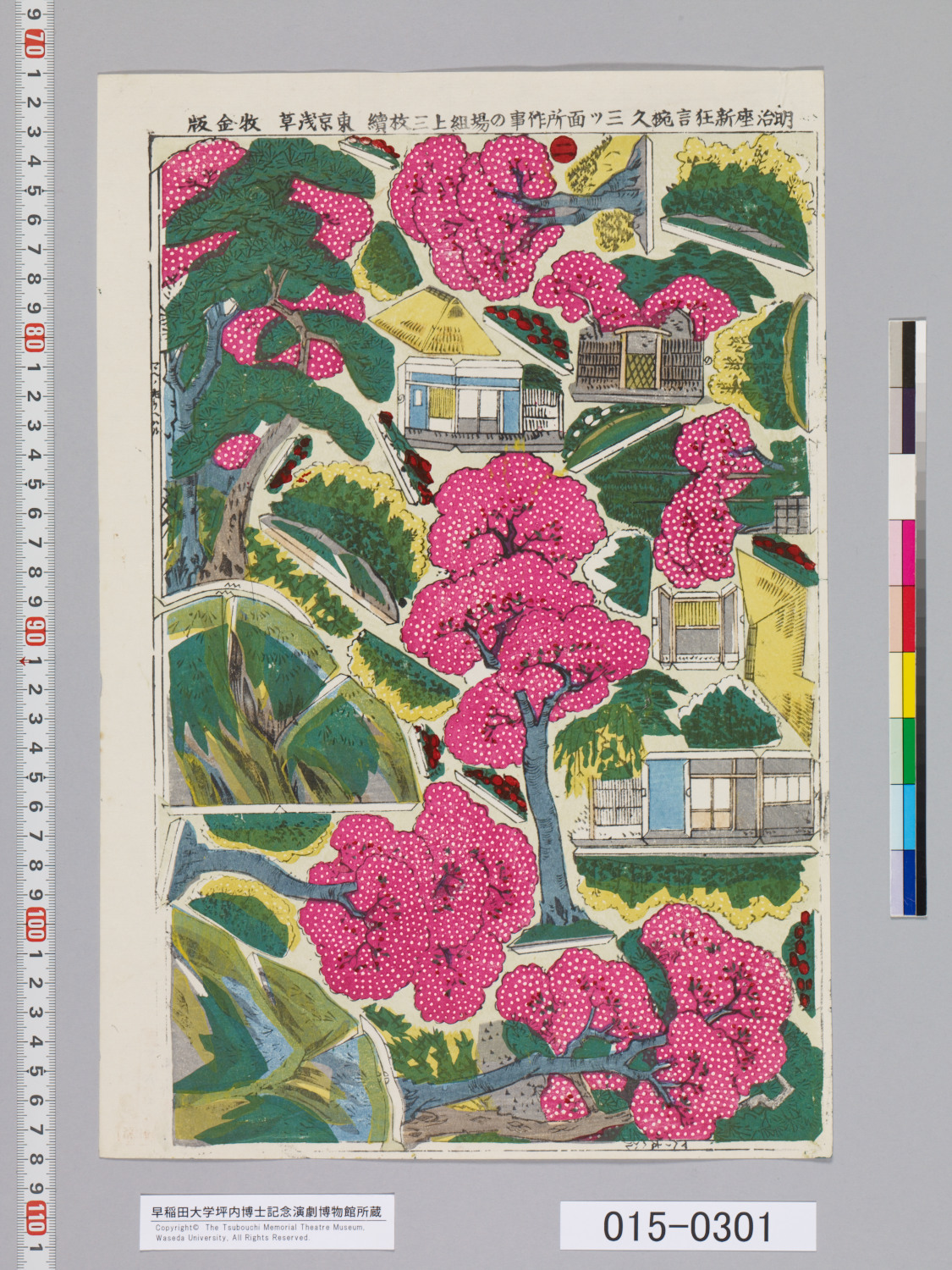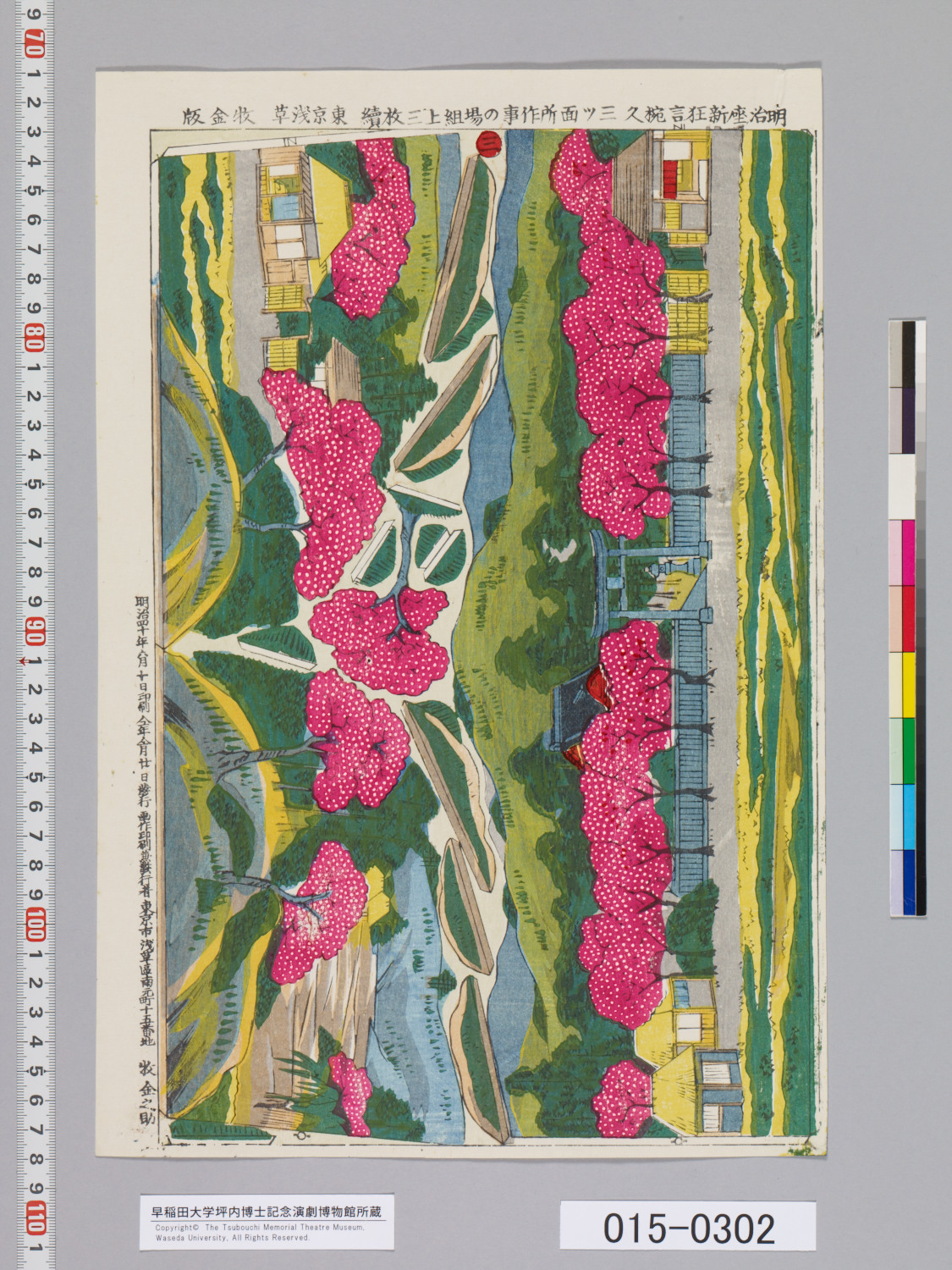 JUNE 1907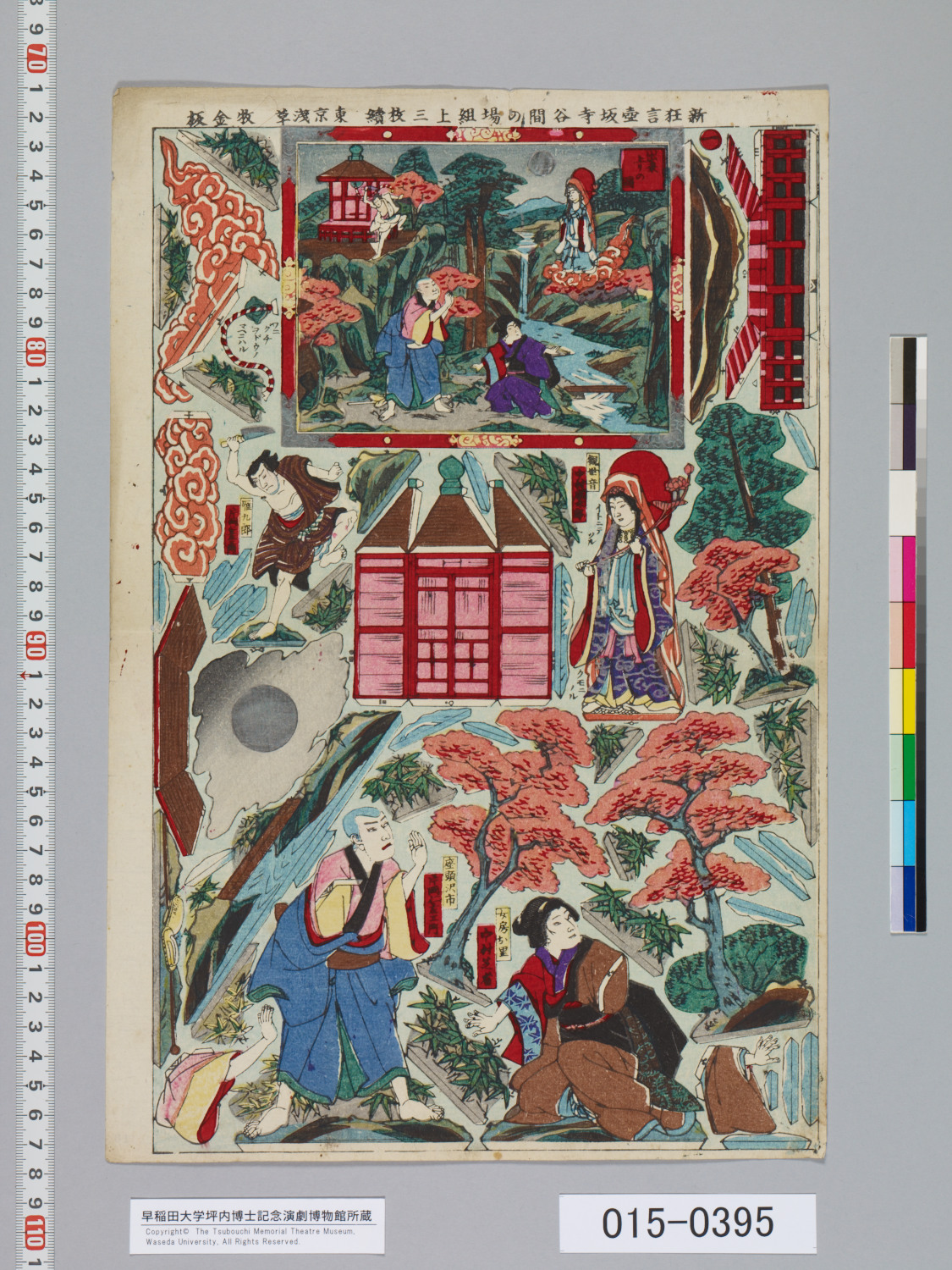 Unread as Gankyű (雁九)

Unread as Kanzeon (観世音)

Kataoka Nizaemon XI
(片山小左衛門) as
Sawaichi (沢市)

Unread as Ny˘b˘ Osato (女房お里)

Play: Tsubosaka Reigenki
(壺坂霊験記; 壷坂霊験記)
Performance Place: ?
Performance Date: ?
Print Date: 06/10/07
Image courtesy of the Tsubouchi
Memorial Theatre Museum

Note: Although there was a production
of Tsubosaka Reigenki at the Meiji-za
in March 1907, Nizaemon XI was not
in that production. I have not been
able to find a production with
Nizaemon XI as Sawaichi prior to 1914.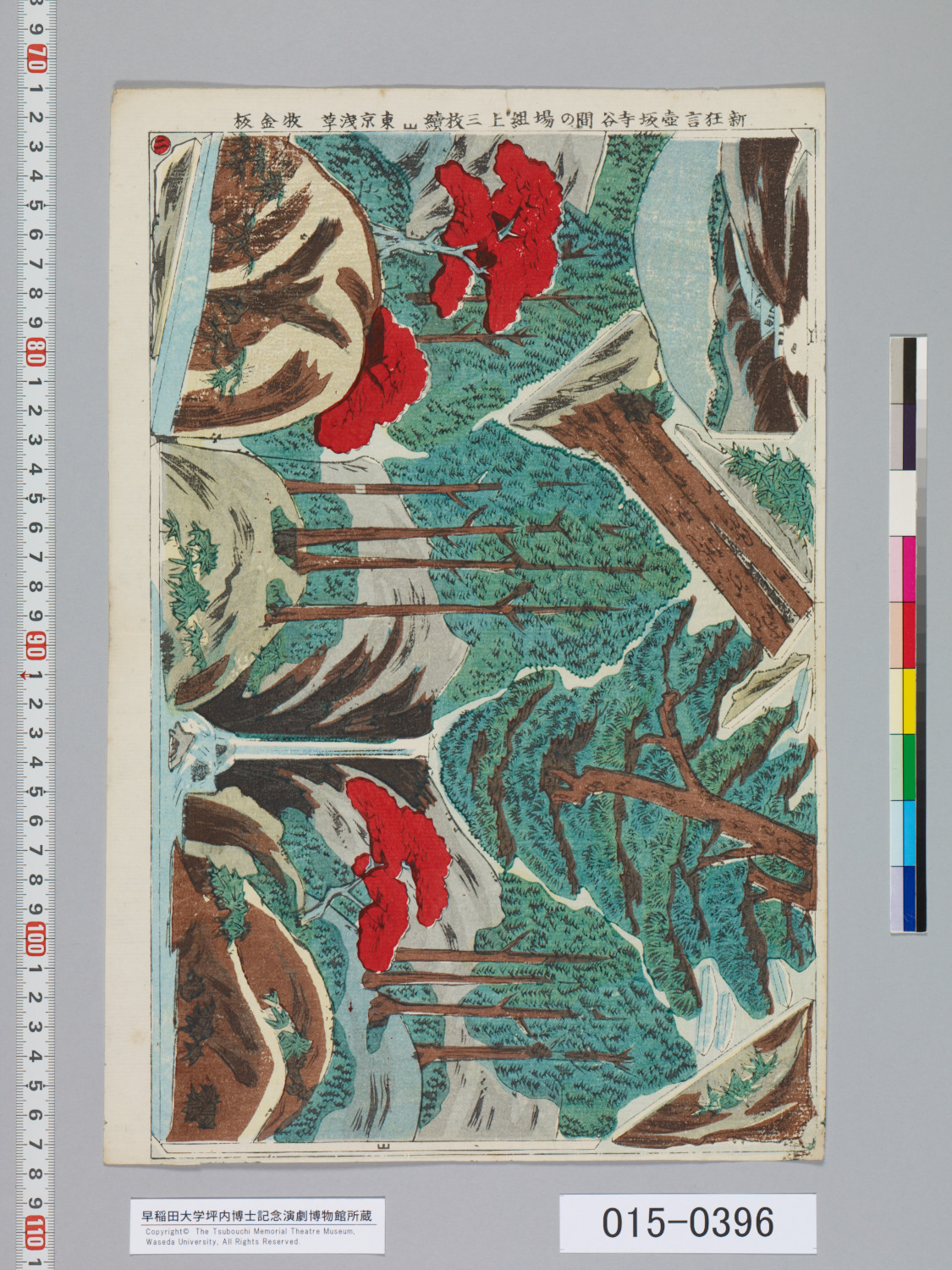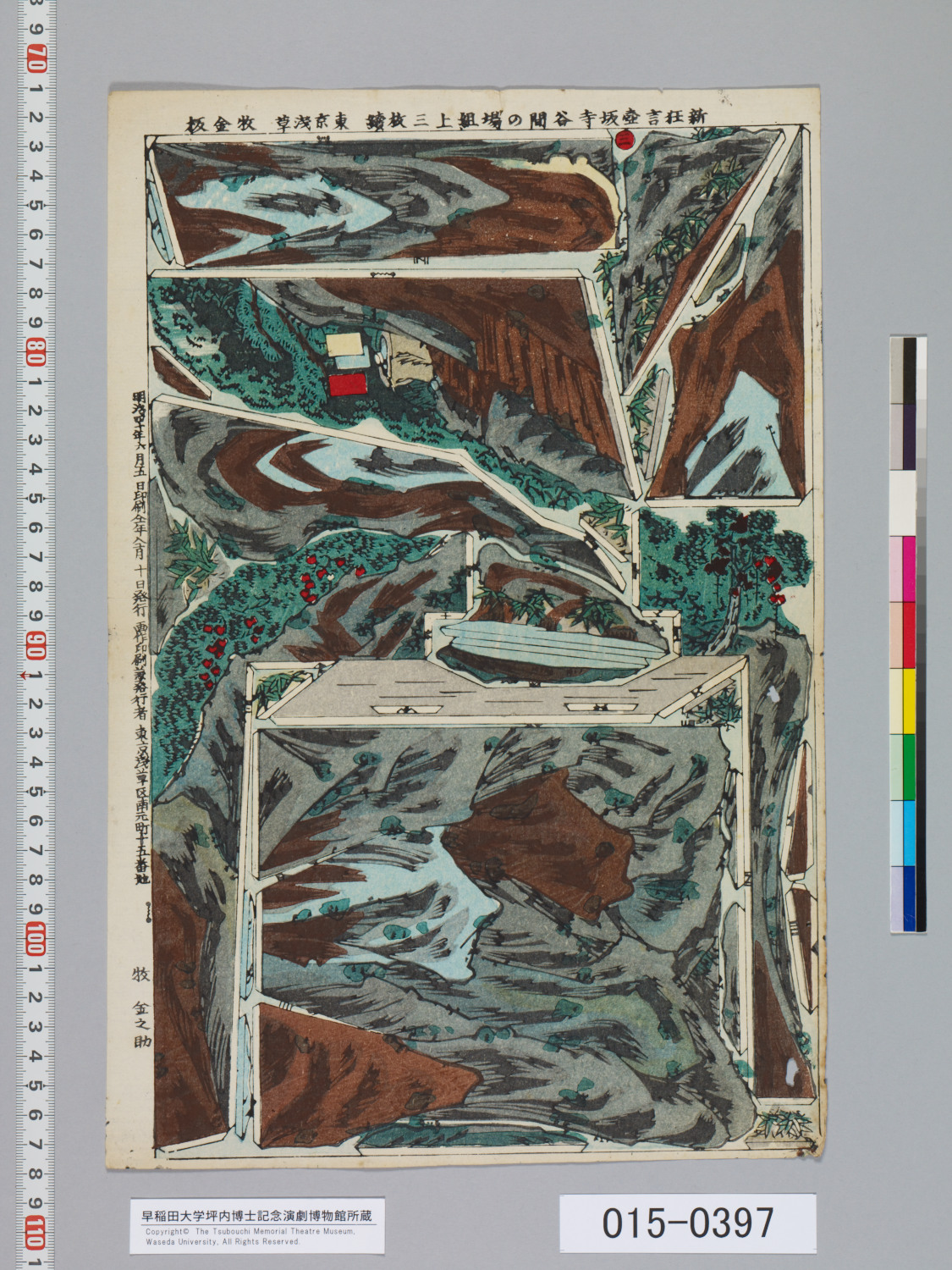 NOVEMBER 1907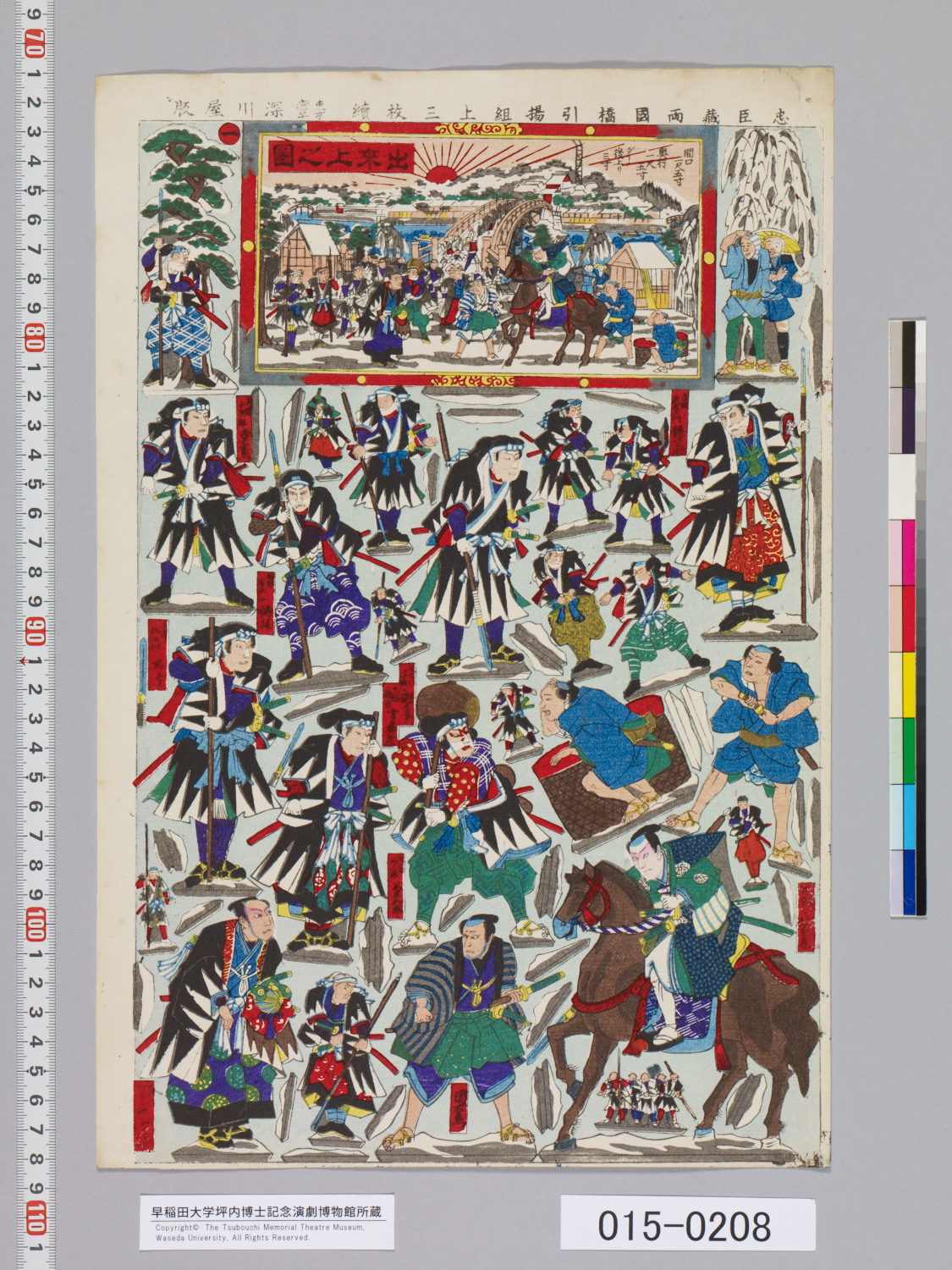 Ichikawa Yaoz˘ VII (市川八百蔵)

Other actors not read

Play: Kanadehon Chűshingura
(假名手本忠臣蔵; 仮名手本忠臣蔵)
Performance Place: Kabuki-za, Tokyo
Performance Date: 11/14/07
Print Date: 05/06/08
Image courtesy of the Tsubouchi
Memorial Theatre Museum