NATORI SHUNSEN (名取春仙)

1943

JUNE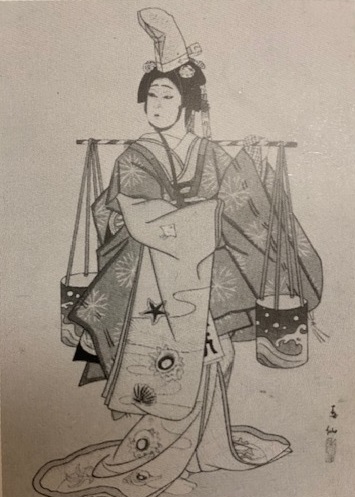 Onoe Kikugorô VI (尾上菊五郎) as
[Matsukaze (松風)]?

Play: Shiokumi (汐汲)
Performance Place: Kabuki-za, Tokyo
Performance Date: 06/02/43
Print Date: 1949
Series: Kikugorô Buyo Sugata [Kikugorô's Dance Appearances]
(菊五郎舞踊姿)

Note: Kikugorô VI first performed in Shiokumi in Tokyo at the
Ichimura-za in May 1923. He reprised his role in Tokyo at the
Shintomi-za in September 1926 and May 1928, at the Tokyo
Gekijô in April 1932, and at the Kabuki-za in December 1936.
Although his appearance at the Kabuki-za in June 1943 was
his last appearance in this role in Tokyo, it is possible that this
print depicts Kikugorô VI in one of these other productions.